Ensuring rights and choices for all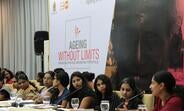 27 September 2018
Is Sri Lanka growing old before it grows rich?
By 2030, 1 in 5 people in Sri Lanka will be above the age of 60. While ageing is a triumph of development that indicates Sri Lanka's continuous investment in the wellbeing of its people, is Sri Lanka ready to face this...
14 August 2018
Youth4Youth: A safe space for young people
UNFPA celebrates International Youth Day by engaging youth for peace DIGANA, Sri Lanka (14 Aug 2018): To celebrate International Youth Day in Sri Lanka, the United Nations Population Fund (UNFPA) hosted its fourth Youth4Youth symposium in the Central Province from 12 – 14 August 2018. This year's theme for International Youth

The International technical guidance on sexuality education is a technical tool that...
For ageing women, menopause is a significant transition from both a biological and...
No vacancies currently available