Ensuring rights and choices for all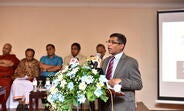 27 July 2019
Unplanned pregnancies must be addressed
In Sri Lanka, about 360,000 women become pregnant every year. One out of three of these pregnancies are estimated to be unplanned pregnancies. When a pregnancy is unplanned or unintended, it can be detrimental to the...

Understanding the role of youth in preventing violent extremism, the United Nations...
The Well Woman Programme - National Strategic Plan (2019-2023) aims to ensure by 2023,...