The journey has been anything but easy, yet, perseverance, patience and a resilient spirit have managed to help 20-year-old Irushi reach heights. Despite the odds, Irushi fought her way back up and hopes to help others like her fight against the gross violation of rights that sexual and gender-based violence presents to thousands across Sri Lanka. Poverty is rampant in the estate sector
where she was born, to a visually impaired father and mother who was employed as a domestic worker who received a menial salary. The parents, busy trying to provide for and flourish their two daughters, had failed to notice that Iru was being destroyed at the hands of a monster on a regular basis. A child of only 12 when it started in 2011, a neighbor who was married and much older had noticed her vulnerability and taken advantage of it. The sexual abuse including rape continued for two more years, till others in the area had finally taken notice of his advances and alerted her parents who approached the police for help.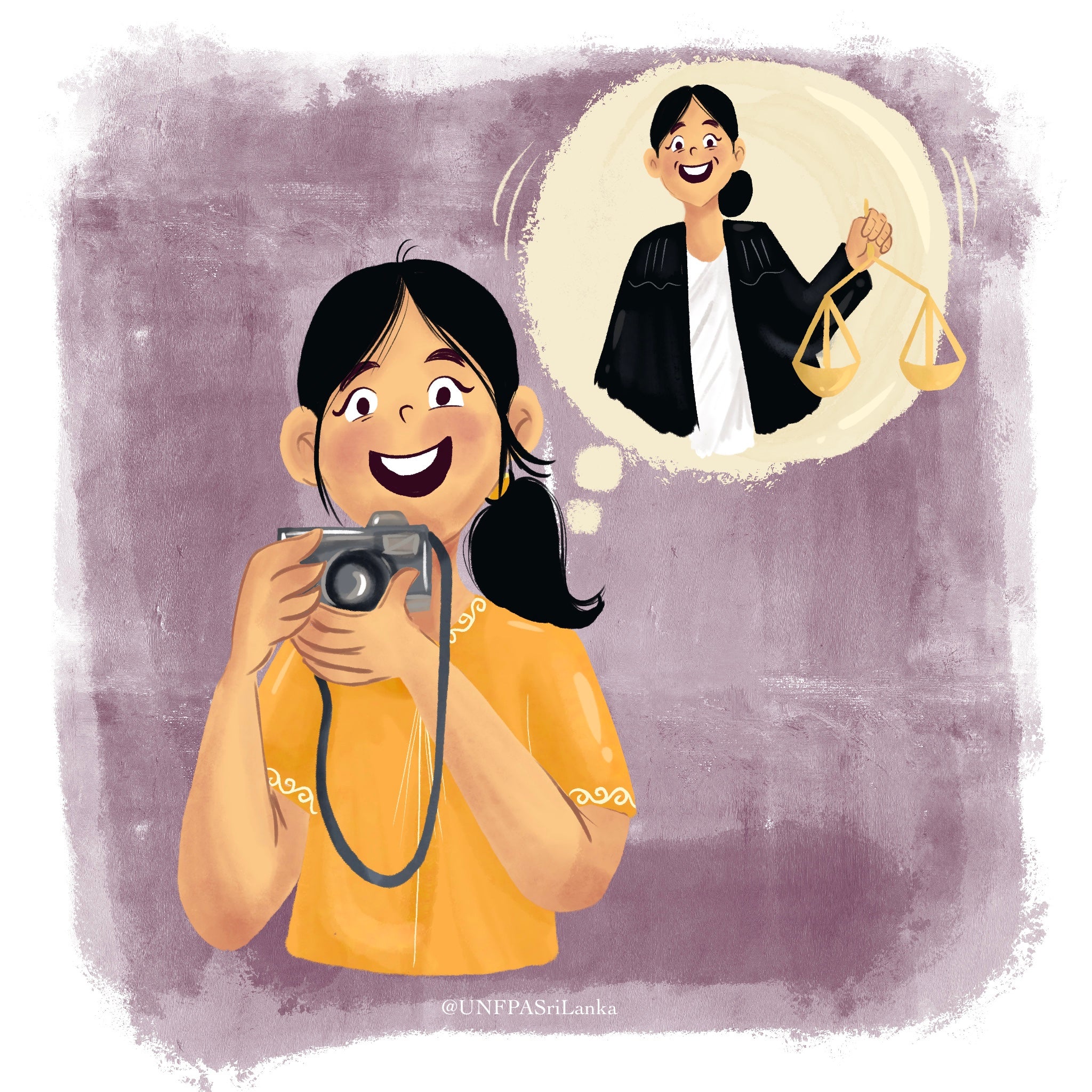 Iru's situation needed immediate help. Her family went to the Women's Development Centre (WDC) where she was placed in a safe house with others who had experienced similar pain in their lives. She found solace in their sisterhood while they worked to move past their trauma.At the age of 18, Iru was finally moving beyond her past. With years of trauma, her education had also been neglected. So WDC decided to assist her to gain an education till she could stand on her own two feet. Equipped with laptops and other essentials needed to pursue her education provided by UNFPA with support from the Government of Japan*, Iru began studying, turning her grief into strengths.
Now as a 20-year-old, she has started working within WDC on data entry. After a few weeks of training and skills development support it was clear that she had the ability to do more. She is now the inhouse trainer for other staff on technology and has an eye for photography.
"Someday I want to become a lawyer, so that I can ensure that more laws are in place to protect women and children against sexual violence. No one deserves that kind of pain" says Iru. 
Many like Iru from the shelter have pursued careers in the law enforcement sector with a helping hand from WDC counsellors and service providers. She has been WDC's official event photographer since, earning praise from all her friends and the staff on the diversity of her talents.
Iru is known for her kindness and undying loyalty towards her "sisters" at the home. She speaks fondly of teaching the younger girls,  reading Sinhala novels, and playing netball. It has been anything but easy for Iru, but through it all she stands as someone who is now there for other aspiring young girls, striving to break free from a cycle of violence.
---
*UNFPA is working with funding from the Government of Japan to improve access to sexual and reproductive health services and information through the 'PROMISES' project - Project for the Improvement of Access to Information and Services of SRHR and of GBV for Women and Young People. By working with the Jaffna Social Action Centre, the Women's Development  Centre and Women in Need, the project also works to equip shelters operating across the country to provide a safe space for women and girls experiencing violence.