DIGANA, Sri Lanka (17 Sept 2018): A peaceful society is one where there is justice and equality for everyone. Peace will enable a sustainable environment to take shape, and a sustainable environment helps promote peace. The United Nations Population Fund (UNFPA) promotes the important and active role of youth in building lasting peace in line with the UN Security Council Resolution on Youth, Peace, and Security.
Each year, International Day of Peace is observed around the world on 21 September. This year, UNFPA Sri Lanka, through its 3-year programme, Youth4Youth, delivered in partnership with Chrysalis and UN Volunteers, supported by the UN Peacebuilding Fund, conducted a National symposium for 100 young people.
The Youth4Youth National symposium was graced by Hon. Dr. Kavinda Jayawardena, Member of Parliament, Ministry of Youth Affairs, and read out the message from Hon. Sagala Rathnayake, Minister of Youth Affairs: "I hope the Youth4Youth programme offers a great platform for youth from diverse backgrounds to engage in peacebuilding and development processes". Thereafter Hon. Dr. Jayawardena participated in a dialogue with the young leaders from the nine provinces. Further, Mr. Wasantha Karunarathne, Assistant Director of Youth Organization Development and Career Guidance was in attendance.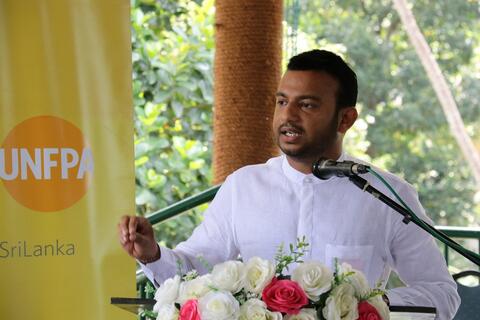 Speaking on the important and positive role of youth in peacebuilding, UNFPA Representative, Ms. Ritsu Nacken stated: "This is the fifth symposium that UNFPA is delivering as part of the Youth4Youth initiative. I am particularly honoured to be at this event, since it is our first National symposium, where we have youth from all parts of the island coming together to discuss how youth can actively drive and sustain peace in Sri Lanka."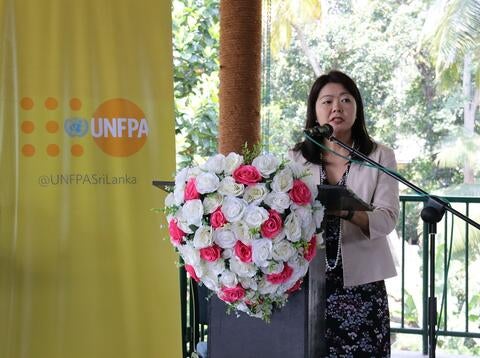 As part of the Youth4Youth initiative, four provincial symposiums were held over the last year, in the Northern, Eastern, Southern and Central Provinces in Sri Lanka, with the aim of engaging young people in peacebuilding initiatives. At the National Symposium, held in Digana recently, the lessons learned from the 4-provinces were shared with young people from across all parts of the island. An outcome of the discussion was to formulate a panel of young leaders to drive concrete solutions to translate youth-led action into the national level.
The 100 participants from diverse communities around the island, engaged in various discussions and interactive activities over the course of 4-days. Reflecting on his experience being part of the symposium, Yashodha Bandara Kotagama, 21 from Monaragala said: "The unique learning experience that we received through this residential workshop helped us see how similar we are despite our differences. We are all Sri Lankan".
**ENDS**