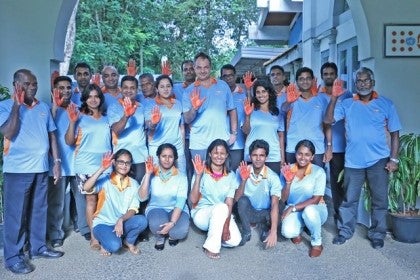 Raising their hands to the sky, staff from the United Nations Population Fund (UNFPA) office in Colombo, painted their hands a bright orange, to highlight this year's slogan of the United Nations Secretary General's UNiTE campaign "Orange the world: end violence against women and girls."
Violence against women or gender-based violence is universal and it does not recognize social, economic or national borders. Official figures estimate that globally one in three have experienced sexual or physical violence, most often by an intimate partner.
"In Sri Lanka, available evidence-based data show that the prevalence of gender-based violence varies within the country and the most common forms of gender-based violence are often associated with cultural prejudices and traditional attitudes within the country's tight knit communities. It is estimated that one out of four females have suffered sexual abuse by the time the reach 18 years of age," said Alain Sibenaler, UNFPA Representative to Sri Lanka.
"Data also reveal that gender-based violence is a common denominator within all of the ethnic groups that make up the Sri Lanka society. By raising our hands, displaying the universal code for STOP, we show our commitment to help end gender-based violence," Mr Sibenaler added.
The international campaign gender-based violence (GBV) also referred to as the 16 Days of Activism against Gender Based Violence kicked off on 25 November, on the International Day for the Elimination of Violence against Women and ends on 10 December, on Human Rights Day. The campaign was conceived in 1991 at the first Women's Global Leadership Institute coordinated by the Center for Women's Global Leadership and is a call for action to end violence against women and girls around the world.
In 2015, UNFPA commissioned Sri Lanka's first national survey on sexual harassment in public transport to understand the current situation of sexual harassment in public transport under the project "On the Way". Preliminary data suggest that an estimated 90% of women are affected by sexual harassment on public transport. The result of the survey, once released will serve as a first basis to engage in policy consultation with the aim to amend the country's penal code, section 345 on sexual harassment. The law, as it currently stands does not include sexual harassment on public transport.
"By painting our hands orange, we show that we stand together in the fight against gender based violence," said Buddhi Feelixge, 26 year-old, UNFPA's Social Media Assistant.
UNFPA is leading the Forum Against Gender-based Violence and the United Nations Gender Theme Group to facilitate a platform to strengthen the response to gender-based violence in Sri Lanka by providing policy advice and advocacy dialogue with key stakeholders, such as the government, NGOs, development partners, UN gender mechanism and established forums.