Colombo, 11 November 2016: Although Sri Lanka's prevalence rate of HIV/AIDS is less than 0.01%, there are factors for triggering of a concentrated epidemic in the country. Health authorities of Sri Lanka relentlessly monitor the trends and make timely interventions in the country's efforts to end the AIDS epidemic by 2030, as part of achieving the Sustainable Development Goals.
Correct and consistent use of condoms is one of the most effective means of preventing sexual transmission of HIV, and this is at the heart of any HIV prevention strategy. Noting this, the United Nations Population Fund (UNFPA) in Sri Lanka worked closely with the National STD/AIDS Control Programme (NSACP) of the Ministry of Health, Nutrition and Indigenous Medicine to develop a National Condom Strategy for 2016-2020.
Taking the effort forward, UNFPA also supported NSACP in developing HIV/AIDS guides for Primary Health Care Workers and those working in condom programming, with the objective to equip officials with the knowledge and skills to improve their awareness on condom use among communities.
At a media sensitization event on HIV Prevention held on 11 November 2016 in Colombo, three publications were launched titled, 'No One Left Behind', 'Comforting Condomization', and 'Condom Education and Demonstration Guideline'. The launch of these publications is one of the key steps of implementing the National Condom Strategy 2016-2020, by way of overcoming obstacles for HIV prevention and for achieving the 'Triple Zeros: Zero Discrimination, Zero New Infections, and Zero AIDS-related Deaths' by 2030.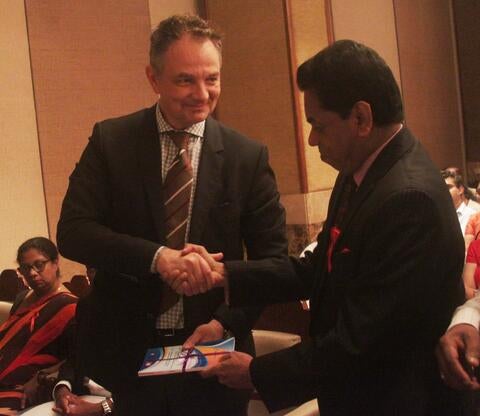 Speaking at the event, Dr. Palitha Maheepala, Director General of Health Services, Ministry of Health, Nutrition and Indigenous Medicine, said: "We shouldn't be afraid to get checked and screened for HIV/AIDS. With the right medication, AIDS can be controlled and those affected can live a normal life. We must spread this message around the country to ensure that we are not faced with an HIV/AIDS epidemic. I thank UNFPA for working closely with us since the beginning."
UNFPA Country Representative for Sri Lanka and the Maldives, Mr. Alain Sibenaler, stated: "I am happy to note that the Sri Lankan Government has engaged closely with UNFPA from the start of the journey in ensuring a Comprehensive Condom Programming is carried out in Sri Lanka. We are proud to have supported Sri Lanka's first Situation Assessment of Condom Programming, which was carried out last year, and UNFPA stands committed in continuing to support the Government in implementing the National Condom Strategy 2016-2020, which will enable Sri Lanka to ensure the reproductive rights of people in the country."
The event was graced by other dignitaries including Dr. Sisira Liyanage, Director of National STD/AIDS Control Programme and Dr. R.D.F.C. Kanthi, Director of Health Education Bureau.