The Asian Forum of Parliamentarians on Population and Development (AFPPD) is a network of 29 National Committees of Parliamentarians from Asia-Pacific. This network works on promoting advocacy and parliamentary actions on population and development issues at national, regional and global levels. Over the last 35 years, AFPPD has played a prominent role in engaging parliamentarians across the region regarding issues in relation to population and development, legislative reforms and driving change.
Over the course of 2016, AFPPD's efforts in Sri Lanka have revolved around the re-establishment of a National Committee on Population and Development with The Ministry of Social Empowerment & Welfare taking the initiative to call an inter-ministerial meeting to form a parliamentarian's forum. As a result of this step, on the 5th of October 2016, the Sri Lanka Forum for Parliamentarians on Population and Development was established. To commemorate the inception of the SLPPD, UNFPA was proud to support a two-day workshop co-organized by AFPPD and SLPPD to officially launch SLPPD's national-level activities along with other strategic partners, HelpAge International and the International Planned Parenthood Federation.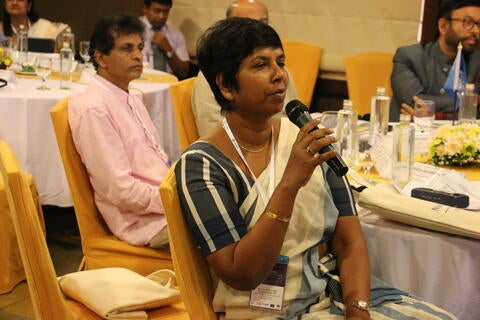 The workshop took place in Negombo, Sri Lanka on the 16th and 17th of February 2016 and brought together 30 parliamentarians ranging from The Ministry of Health, Nutrition and Indigenous Medicine, The Ministry of Highways, The Ministry of Women and Child Affairs and The Ministry of Youth Affairs among  others. The workshop aimed to provide participating parliamentarians with a platform for discussing  opportunities that AFPPD-SLPPD could explore at national, regional and global levels and consisted of four key areas i.e. active ageing in a Sri Lankan context, gender equality and women's empowerment, sexual and reproductive health rights and youth.  
UNFPA Representative Kristine Blokhus delivered one of three opening remarks and discussed the importance of policy making and implementation stating, "we
are here because we recognize
the crucial role that parliamentarians play in building legal and policy frameworks and to monitor how equitably there are implemented. Sri Lanka has made enormous progress on social development indicators over a short time. There is much to be proud of here – and much momentum to build on".
Other speakers included Hon. Mr. S.B. Dissanayake, Minister of Social Empowerment & Welfare and also Chair, SLPPD, Ms. Chandrani Senaratne, Ministry for Women and Child Affairs, Mrs. Thushara Ranasinghe, Executive Director, Family Planning Association Sri Lanka and UNFPA's National Programme Analyst Mr. Jayan Abeywickrama who presented on "Why Parliamentarians Need To Advocate On Population and Development Issues: Their Role in Accelerating the Achievement of the Sustainable Development Goals" among other distinguished presenters.
With women, young people and elderly residing at the heart of UNFPA's mandate UNFPA was proud to support this platform and provide assistance in order to ensure the success of the Forum for Parliamentarians on Population and Sustainable Development in Sri Lanka.