COLOMBO, Sri Lanka (01 August 2018): Marking International Women's Day last year in March 2017, The United Nations Population Fund (UNFPA) signed an MOU with MAS Holdings to deliver a one-year project to shift corporate culture within the organization by increasing awareness among employees on gender-equitable structures. The project was successfully completed this year, reaching out to over 20,000 employees in five of MAS' apparel manufacturing plants:  Leisureline, Slimline, Bodyline, Linea Aqua, and Silueta.
As the largest private-sector employer of women in Sri Lanka, MAS recognizes the need to ensure its employees and their families live with respect and dignity, and fulfill their potential. With the use of surveys and focus group discussions to understand their needs, UNFPA designed a custom-made programme for MAS, in consultation with the MAS Human Resources Department and Women's Advocacy team. The programme centralized around developing resource material and training of trainers to conduct awareness-raising sessions on gender-based violence and on the principles of gender-equality within the organization.
At the end of the one-year project, UNFPA had trained 22 MAS officers using the developed training material. These officers are now in-house resource personnel that have the knowledge, skills and tools to conduct sessions for more employees, thereby increasing awareness on gender-based violence and gender-equality. The project was designed as a sustainable model to ensure that while UNFPA technical support phases out, MAS can continue to train its employees through the in-house resource personnel, thereby scaling up the programme to reach all employees and promote equitable structures within the organization.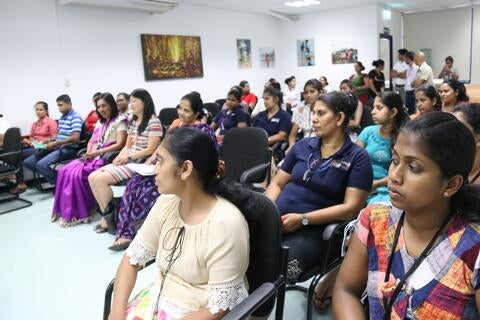 Speaking on the importance of the UNFPA-MAS partnership project, Director of Women Go Beyond at MAS, Mrs. Shanaaz Preena said, "At MAS, our ethos has always been to cultivate strong partnerships, we value the contribution that these relationships bring into the fold and this collaboration is no exception. UNFPA being the chair of the National Forum against gender-based violence and one of the lead UN agencies working on addressing and preventing GBV, has much to offer us. At MAS we believe in nurturing and investing in the well-being of our people and the communities around them and we work hard at building the right culture. We hope to use the learnings and knowledge transfer from this initiative to the benefit of all our employees at MAS".
Representative of UNFPA in Sri Lanka, Ms. Ritsu Nacken added, "UNFPA values the partnership with MAS, which has provided us the opportunity to engage with a large number of working women to address gender-based violence and uphold gender-equality. This partnership highlights the importance of the need for all corporate stakeholders to strengthen their policies and structures to ensure no one is left behind, and to uphold dignity and respect of all employees."
**ENDS**