Colombo, 29 August 2017: A 2015 survey commissioned by the United Nations Population Fund (UNFPA) revealed that 90 per cent of women in Sri Lanka have experienced sexual harassment on public transport, while only 4 per cent sought help from the Police.
Sexual harassment violates fundamental human rights and freedoms – as protected under the Sri Lankan legal framework. Public transport, being a key function of a productive economy, is shown to be unsafe for women. The uncertainty and risk involved in using public buses and trains deters women from engaging in vital activities including work and education. These barriers pose a threat to gender parity, the physical and mental wellbeing of women, as well as female labour force participation, which is currently at only 34 per cent, significantly lower than many other countries in the region.
In February 2017, UNFPA, in partnership with the Ministry of Women and Child Affairs, rallied national support and awareness on the issue at a public advocacy campaign titled: 'Does she travel safe?' 'ඇය සුරැකි ගමනකද?'  'அவளின் பயணம்பாதுகாப்பானதா?'.
As a follow up, UNFPA convened a policy dialogue on 29 August 2017 to address the issue at its root cause level and to engage stakeholders in developing feasible and long-term solutions. The event was graced by the Minister of Women and Child Affairs, and the Secretary of the Ministry of Transport and Civil Aviation. Other dignitaries included the Chairman of the National Council for Road Safety, and the Chairman of the Sri Lanka Transport Board.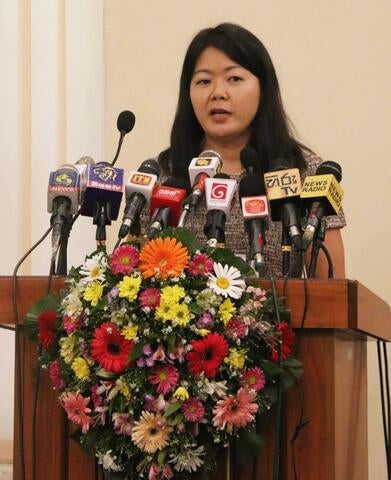 UNFPA Representative in Sri Lanka, Ms. Ritsu Nacken, speaks on the importance of ensuring safer public transport for women and girls
Speaking at the event, Ms. Ritsu Nacken, UNFPA Representative in Sri Lanka, said: "Mobility is one of the key factors for women's empowerment. When women and girls can use public transport without worrying about sexual harassment, they could have more opportunities to fulfill their potential. This is part of the 2030 Agenda – Leaving no one behind."
The dialogue addressed the issue on an upstream policy level with discussion on Policy Responses to Sexual Harassment on Public Transport and Behaviour Change Communication; Social Change Interventions. 
The dialogue was designed to gather insights and recommendations, build greater public awareness, and to shed light on other nuances of the issue including its negative implications on the Sri Lanka's national productivity and economy.  Law enforcement, by-stander intervention, and avenues for sensitization were other crucial subtopics that were also discussed. There was consensus among the panel that the law must be effectively implemented where perpetrators of these offences are punished and the process and procedures to make complaints are streamlined. It was recommended that all stakeholders involved must be held accountable and victims must be made aware of their rights and the need to take action. The role of the media in fostering social change interventions through public campaigns where bystander interventions are encouraged was also highlighted.
UNFPA is committed to continue supporting the Government to address the issue of sexual harassment in public transport, by providing policy recommendations that ensure the right mechanisms are in place to address the needs of victims and to build a culture of safer public travel for all.