UNFPA marks World Population Day with a Generation-to-Generation Dialogue on Comprehensive Sexuality Education
12 July 2018 (Colombo, Sri Lanka): To commemorate World Population Day 2018, the United Nations Population Fund (UNFPA) together with the Parliamentary Sectoral Oversight Committee on Women and Gender, and the Ministry of Education, hosted UNFPA's 5th Generation-to-Generation dialogue (G2G) on the need for Comprehensive Sexuality Education (CSE) in Sri Lanka.
Sri Lanka has a youth population of over 4.4 million between the ages of 15-29 years. However, the National Youth Health Survey (2013) identified that 50% of young people had limited knowledge about sexual and reproductive health. According to the Family Health Bureau (2015), while teenage pregnancy in Sri Lanka was relatively low at 5.2%, sub-national disparities exist with a rate of 8-9% in some localities. Further, the Stigma Assessment of People Living with HIV (2017) indicates that the HIV prevalence in Sri Lanka is 0.01%, yet new infections are seemingly increasing, especially among young people. The recent communal violence, particularly in relation to the Ampara incident, which stemmed from inaccurate information relating to reproductive health, further highlights the need for CSE in Sri Lanka.  
Recognizing this need, the Generation-to-Generation dialogue facilitated a discussion on how different stakeholders, with a special emphasis on policymakers and young people can come together to address gaps in comprehensive sexuality education in Sri Lanka, through targeted initiatives and inclusive policies.
Hon. (Dr.) Sudharshini Fernandopulle, Deputy Chair of the Parliamentary Sectoral Oversight Committee on Women and Gender, delivered the Keynote address. Speaking at the event, Hon. (Dr.) Fernandopulle stated: "Traditional values and culture have restricted young people in Sri Lanka from receiving comprehensive sexuality education. Global research shows that comprehensive sexuality education improves the overall health and well-being of youth".
Ms. Ritsu Nacken, Representative of UNFPA in Sri Lanka further stated, "Comprehensive sexuality education goes beyond simply providing information on sexual and reproductive health, and equips young people with critical life skills and understanding of fundamental values such as human rights and gender equality. It is often misunderstood that CSE makes young people more promiscuous, but it is proven that CSE does not facilitate an early onset of sexual activities. CSE can help young people develop self-esteem and life skills that encourage critical thinking, clear communication, responsible decision-making and respectful behavior. As parents and educators, it is our responsibility to provide young people with accurate and age-appropriate information, so that they can make informed decisions about their body and life."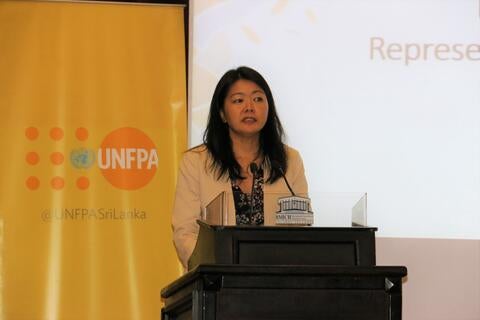 The dialogue was based on the International Technical Guidance on Sexuality Education, which is the global guidelines for CSE, launched earlier this year - led by UNESCO, along with UNAIDS, UNFPA, UNICEF, UNWOMEN, and WHO. Delivering a presentation on the guidelines, Ms. Sarita Jadav, National Programme Officer from UNESCO, New Delhi highlighted: "Comprehensive  sexuality education includes evidence informed age-appropriate education. It includes information all adolescents and young people need to know".
The dialogue was moderated by Dakshitha Wickremarathna, Director, Youth Advocacy Network, and the panel comprised of; Ms. Renuka Peiris, Director of Education at the Ministry of Education; Dr. Ayesha Lokubalasuriya, Consultant Community Physician, Adolescent and School Health Unit at the Family Health Bureau, Ms. Sarita Jadav, National Programme Officer at UNESCO, New Delhi; Benislos Thushan, Programme Officer at Office for National Unity and Reconciliation, and Aisha Nazim, Journalist at Roar Media.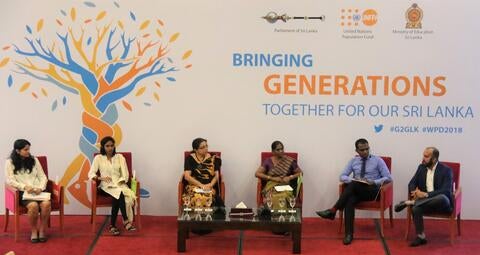 Generation-to-Generation (G2G) dialogues are UNFPA's flagship events in Sri Lanka. G2Gs are inter-generational dialogues that provide an open platform for the three generations to come together to share their ideas on socio-economic issues.
**ENDS**