COLOMBO, Sri Lanka (7 February 2018): Award-winning Hollywood actress, writer, and UNFPA Goodwill Ambassador, Ms. Ashley Judd, arrived in Sri Lanka on 3 February 2018, and addressed the media at the end of her mission on 7 February 2018, with Ms. Ritsu Nacken, UNFPA Representative in Sri Lanka.
During her mission, Ms. Judd engaged with women and girls, and stakeholders from the public sector, private sector and donor community to discuss the importance of investing in reproductive health and rights. At the press briefing Ms. Judd stated: "What UNFPA advocates for is voluntary human rights-based individual empowerment regarding one's reproductive health; the opportunity and the dignity of deciding if and when and whether and how many children to have. And that requires making all different kinds of modern family planning methods available for individuals to have that autonomy and dignity of choice".
Over a quarter of the Sri Lankan population consist of youth between 15 - 29 years, yet over 50 per cent are unaware about sexual and reproductive health issues. In 2017, UNFPA with the University Grants Commission, introduced an online tool for university students to learn more about their reproductive health and rights: www.roadtoadulthood.lk Referring to this, Ms. Judd said, "It is so important to have frank, open, and medically accurate conversations about sexual and reproductive health. And all of it, of course, needs to be done within a sensitive and local context."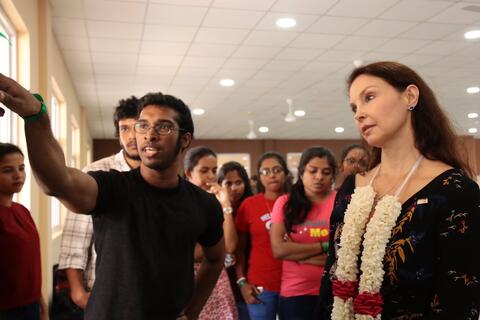 Ms. Judd also visited the De Soysa Maternity Hospital, where she engaged with pregnant mothers and newborn babies, and learned more about UNFPA's support in formalizing maternal care guidelines in the country. UNFPA has also supported the Family Health Bureau in the establishment of 'Mithuru Piayasa' – hospital-based care centers that provide counselling and immediate care for victims of Gender-based Violence (GBV). Ms. Judd highlighted: "It's so important that women talk to one another, because that's where we get so much of our information. We girls have to group up and talk about our sexual and reproductive health".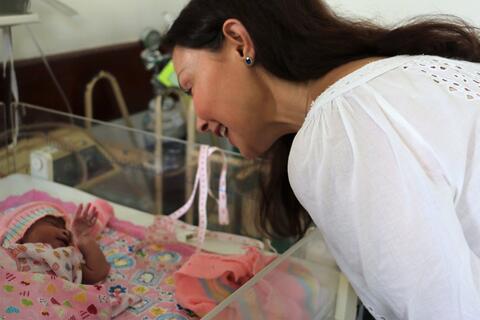 A highlight of Ms. Judd's visit was her engagement with 100 young people at the University of Peradeniya, Kandy. Young women and girls expressed their views on incidents of GBV through art and interactive drama. Speaking about her visit to the UNFPA programme conducted at the university, Ms. Judd said, "The students were talking about GBV in a non-shaming way that was very safe and really open, and it's that kind of awareness that creates advocacy and courage. This is what the world needs now".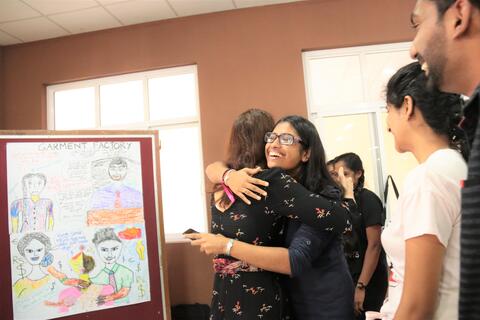 In light of UNFPA's partnership with MAS Holdings in strengthening gender sensitivity at corporate level, Ms. Judd had the opportunity to visit MAS Holding's UNICHELA garment factory in Panadura. Speaking to empowered women at the factory, she learned how the apparel industry has been a catalyst in enhancing livelihoods of women, their families, communities, and the country as a whole. She added, "It's a crazy good place, but what can happen when a woman is financially empowered is that it can be a little disruptive to the previous way that things worked in the spousal relationship and so, UNFPA is helping the factory workers [by increasing awareness on GBV]".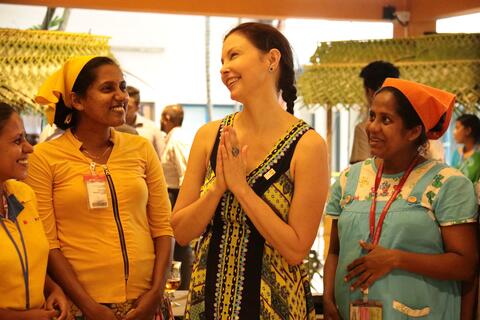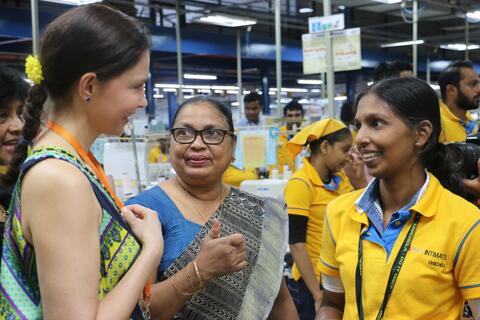 Ms. Judd also mentioned that she will be meeting with female members of the local film community to share views on how film can be used as a tool to increase awareness on issues relating to GBV, the importance of reproductive health and rights, and sexuality education.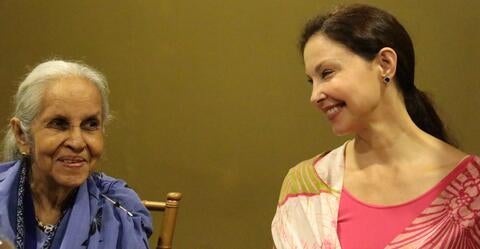 Ms. Judd was appointed as a UNFPA Goodwill Ambassador in March 2016, and is a passionate advocate for ending all forms of gender-based violence around the world. She has visited slums, brothels, schools, hospices, drop-in centres, and clinics in Southeast Asia, Sub-Saharan Africa, and Central Africa. She was one of the 'Silence Breakers', titled as TIME Magazine's Person of the Year 2017.