Colombo, Sri Lanka -- It's 1pm and the Vidyawardana Maha Vidyalaya - a school in Wellampitiya - is a beehive of activity. Not with school children on recess, but with army officers handing out lunch packets, mothers carrying wailing infants, and children in casual clothes playing a game of cricket.
The school has been turned into a temporary shelter in the aftermath of one of the worst floods Sri Lanka has experienced in two decades.
On 16 May 2016, tropical cyclone Roanu wreaked havoc in several regions of the island. Wellampitiya was one of the worst affected. Other hard-hit areas include, Aranayake, Killinochchi and many settlements along the Kelani River.
The death toll as at May 25 stands at 91, and 109 people remain missing. According to the latest news reports, 506 houses are completely destroyed and 4,005 houses were damaged during the flooding, and the landslide in Aranayake.yclone Roanu has passed and the water levels are gradually receding. In areas, such as Wellampitiiya, Ampara, Homagama, Killinochchi and Wellawatta, families in temporary shelters are returning home and have begun cleaning their homes. In other areas, where homes have been completely destroyed, such as Kegalle, families will remain in camps as internally displaced persons (IDPs) until they are given new homes.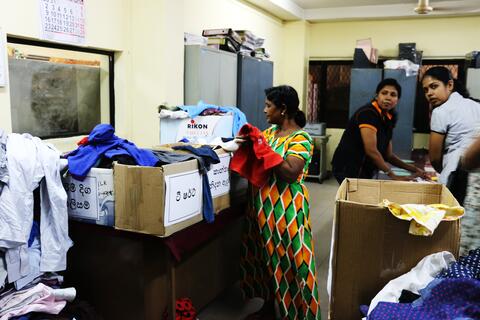 Currently, IDPs are being sheltered in schools and temples. The District Secretariat lead at the Vidyawardana Maha Vidyalaya, Tharanga Balasooriya, told UNFPA that due to the presence of army personnel they have had no incidents of gender-based violence or theft.
However, the women in disaster situations are more vulnerable. Balasooriya related that over the past week, women at the camp have been deprived of food and certain relief items as the men jostle their way ahead of queues to access relief supplies.
While the Director General of Health Services issued a directive last week, stating that all pregnant mothers must be admitted at the nearest hospital regardless of the stage of their pregnancy, some women prefer to remain at the camps with their families.
National Programme Officer of UNFPA Sri Lanka, Jayan Abeywickrema, says "It would, however, be beneficial for these mothers if they were admitted at hospitals as they would receive medical care and attention they require. Their health is at risk as they remain in cramped camps that exposes them to communicable diseases, limits their access to clean toilets, private washing areas and the right kind of nutrition".
UNFPA Sri Lanka has donated US$ 5,000 to the Ministry of Women's Affairs for purchasing sanitary items. The District Secretariat stated that sanitary items are essential not only as immediate relief but during the resettlement phase as well. As part of a continued relief effort, UNFPA Sri Lanka has requested for funds from the Central Emergency Response Fund (CERF) to support women and girls of reproductive age, and pregnant mothers who are affected by the flooding. The funds will cover the cost of 1000 maternity kits and 6000 dignity kits, and support mobile clinics for pregnant mothers and awareness sessions of reproductive health and gender based violence.
Together with the help of the government, the military forces, corporates, and the civil society, Sri Lanka will be able to emerge from this catastrophe faster and better than in previous natural disaster situations.