UNFPA: Delivering a world where every pregnancy is wanted,
every childbirth is safe and every young person's potential fulfilled.
4 April 2017
Statement by UNFPA on U.S. Decision to Withhold Funding
UNFPA, the United Nations Population Fund, regrets the decision by the United States to deny any future funding for its life-saving work the world over. This decision is based on the erroneous claim that UNFPA "supports...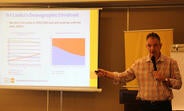 28 November 2016
UNFPA Joins Hands with the National Planning Department
Colombo, 26 November 2016: Understanding current population trends and demographic dynamics is central to development planning; along with the leadership abilities to confidently make informed decisions. Upon invitation by the National Planning Department, UNFPA Country Representative, Mr. Alain Sibenelar, delivered a training